What are traffic yielding laws in Virginia? What does it mean to yield the right of way, and what are the potential penalties for failing to yield? If you have received a failed to yield ticket, you may have questions and need an attorney to look at your ticket with you. The term, "yield the right of way," simply means to allow other vehicles, pedestrians, or bicycles to move or pass in front of you. Violations and punishments may vary, and Cook Attorneys are here to help if you have received a ticket for failing to yield.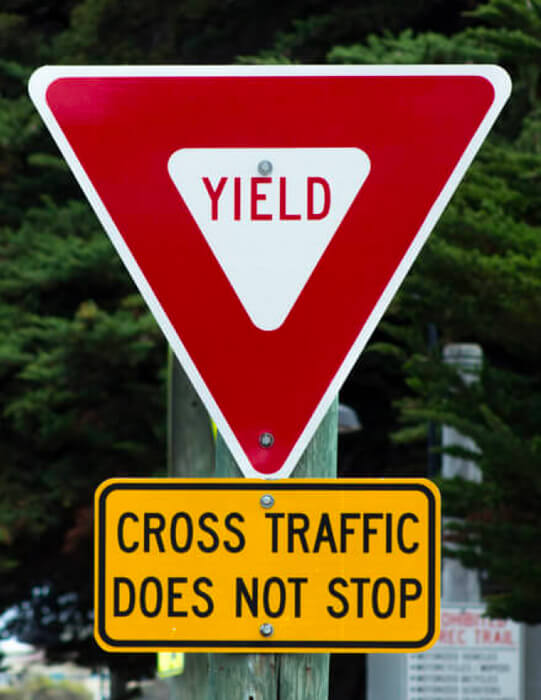 What does it mean to yield the right of way?
In the Commonwealth of Virginia and all other US states, to yield the right of way is to allow another vehicle, pedestrian, bike, or other transportation means to pass before you. Yielding the right of way applies mostly at intersections or highway entrance ramps and will often be clearly marked with a yield sign. 
A failure to yield is a form of reckless driving and is thus a Class 1 Misdemeanor. According to Virginia law code, failure to yield violations can occur when someone fails to:
1. Does not bring his/her vehicle to a stop before entering the highway where there is traffic approaching on highway within 500 feet of the entrance
Or 
2. When a yield right-of-way sign is posted, a person fails to yield the right-of-way to a vehicle approaching on the highway from either direction.
In order to charge an individual with reckless driving for failure to yield, the state must prove one of these above situations. Oftentimes, reckless driving charges will be assessed for a failure to yield resulting in an accident and can become a point of great dispute if civil action is taken. If you receive a reckless driving charge for a failure to yield resulting in an accident, we highly recommend hiring an experienced legal counsel to assist in potential litigation. 
How much is a failed-to-yield ticket? 
Because a failure to yield is a form of reckless driving, it is considered a Class 1 misdemeanor in the state of Virginia. In Virginia, the potential penalties for this infraction are confinement in jail for up to 12 months and a fine of up to $2500. Moreover, reckless driving is a crime and will remain on your permanent criminal record and can result in up to 4 DMV demerit points. 
Often, you can take drivers training courses to get the demerit points off your record. For more on demerit points, see our blog post about driving record and point assessment in Virginia.
If you are concerned that the charge is inaccurate, you want to avoid points on your license, or you simply need a lawyer's set of eyes on the ticket, feel free to contact Cook Attorneys at any time for quick and helpful lawyer advice. We offer free consultations on traffic cases.
The Bottom Line
If your ticket requires that you appear in court, or if you decide to challenge it in court, Cook Attorneys can appear for you so that you may not have to take off work. We may also be able to keep you from having to return to Virginia if you live out of state. 
We will talk to you ahead of time about what we will ask the judge for, and then we will let you know right away what the judge said—as well as what (if anything) you owe for your ticket or court fees. 
If this sounds appealing to you, don't hesitate to call today for a free consultation! Cook Attorneys has been serving Harrisonburg and all surrounding counties in Virginia for over two decades, and we would love to help you.