If you are pulled over by the police, they will ask for "license and registration." But what does that mean, and do you need to keep anything else on-hand? What is required by law, and what is just good to have? We'll go over all of this and more in this blog post about vehicle registration in Virginia.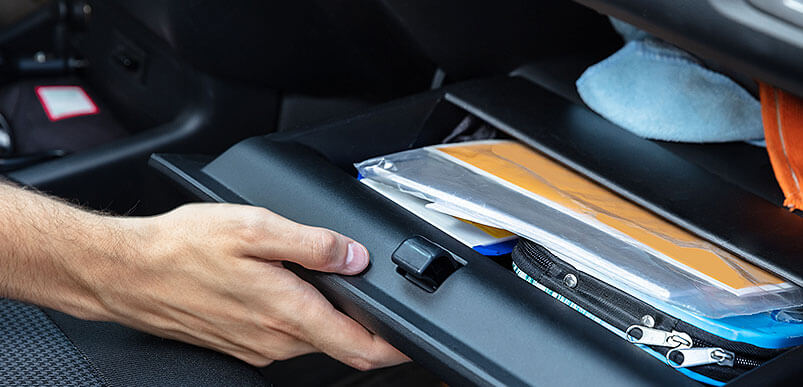 License
You must have a valid driver's license on-hand when you drive a motor vehicle in Virginia. Driving without a license in Virginia is a Class 2 Misdemeanor; you may end up with a fine up to $1,000 or a jail sentence of up to 6 months. (If you have this charge more than once, the penalty is greater.)
But what happens if you forget your license and get pulled over? You will be ticketed for $10 and will have to go to court to prove you had a valid license at the time. You may also be responsible for some court fees.
For more on driver's license laws, including rules about out of state licenses, see our blog post "Driving Without a License in Virginia."
Registration
What is a car registration? It is documentation that you have registered your vehicle at the Department of Motor Vehicles (DMV). Every vehicle that drives on Virginia roads must be registered. To register your vehicle, you must go to the Virginia DMV and provide the following:
A completed Application for Registration (Form VSA 14) or a completed Application for Certificate of Title and Registration (Form VSA 17A) if your vehicle was not previously titled in Virginia.

Proof of identity and address.

The vehicle's inspection certificate (in certain counties).

Proof of insurance OR payment for the $500 uninsured motorist fee.

Payment for your registration fees. (Registration fees vary based on the vehicle.)
Other documentation may apply for vehicles originally registered elsewhere. After you register your vehicle, you should keep the registration with the vehicle. If the registration is missing, the sticker is not placed appropriately, or the registration is expired or revoked, you could be subject to penalties. 
Driving without registration is a ticketable offense, and is considered a Class 4 Misdemeanor. This means you could be fined up to $250. 
Insurance
You are required to have insurance on your vehicle, or pay the Uninsured Motor Vehicle Fee. You should keep proof of insurance in the car, but Virginia does accept electronic proof of insurance (such as through a phone app). 
Virginia has minimum requirements on the amount of insurance you should carry. For more information on insurance rules and regulations, see the Virginia DMV page about insurance.
Other documents
While those are the only three documents that are required in order to avoid penalty, there is other documentation that may come with your vehicle or be good to keep on your person wherever you go. These include, but are not limited to:
Vehicle operator's manual

Personal health documentation for your specific condition(s), in case of accident 

Contact information for the owner of the vehicle (if is not yours)
What if I get pulled over, but I am driving my friend's car?
If you drive another person's vehicle, it is your responsibility to know where the registration paperwork is and if it is still good. The police officer who pulls you over has discretion by law to ticket you, the owner, or both. 
You should also be aware of whether you are covered under the insurance of the car with your own insurance. If you are in an accident, that will make a big difference in who pays what. Some car insurance will only cover the owner(s) of the vehicle when they are driving.
What happens if I want to contest the charges?
If you need help with this or any other traffic-related offense, Cook Attorneys is here to help. We can help fight charges for driving without a registration, driving without a license, and driving without insurance. We can also help if the insurance you thought you had will not pay for an accident.
With driving without registration charges, we can fight to get the penalty waived if you register your vehicle before the fine is due, and keep the misdemeanor off your record.
Some of these charges seem innocuous on their own; but if you are pulled over and ticketed for a moving violation, and then one of these is combined with it, the charges can start getting overwhelming. If you have any confusion at all, call Cook Attorneys today to set up a free consultation.