Naturalization is the process by which a person not born in the United States can become a citizen. It can be confusing and emotionally-charged for the people—and their loved ones—who are going through the process. 
Cook Attorneys has decades of experience with immigration and naturalization. In this post, we walk you step by step through the process of how to become a naturalized citizen. We'll also answer some frequently asked questions.
Application process:
File the paperwork
The application for naturalization is called the N-400. It is extensive and detailed. You can file it via paper or via the United States immigration website. 
If your application is not approved, you may have to start over—including paying the fees all over again. It is a good idea to get an experienced attorney to help you from the beginning, to make sure every question is answered correctly.
If your application has already been denied, please do not hesitate to call Cook Attorneys and set up an immigration consultation. Cook Attorneys are experienced in immigration and can help you or your loved one through this complicated process.
Get your fingerprints taken
After you file your application, you will need to get your fingerprints taken at a the USCIS office in Northern Virginia. Some people, such as individuals over 75 years old and some military personnel, can skip this step.
Do the Interview
When your paperwork is approved, you will receive a date, time, and location for your immigration interview. They will ask you questions about things like how long you have lived here, why you moved here, and who you know in the United States.  They will also ask questions to make sure you have a basic understanding of our government and how it works.
For more information about what to expect and how to prepare for the interview, see this blog post.
Take the Oath of Allegiance
After the interview, you will find out if you have been approved to take the Oath of Allegiance. This means you have been approved, and the only remaining step is to show up to the ceremony. You will find out by mail when and where the ceremony will be held. Once it is complete, you will receive a certificate showing that you are a United States citizen!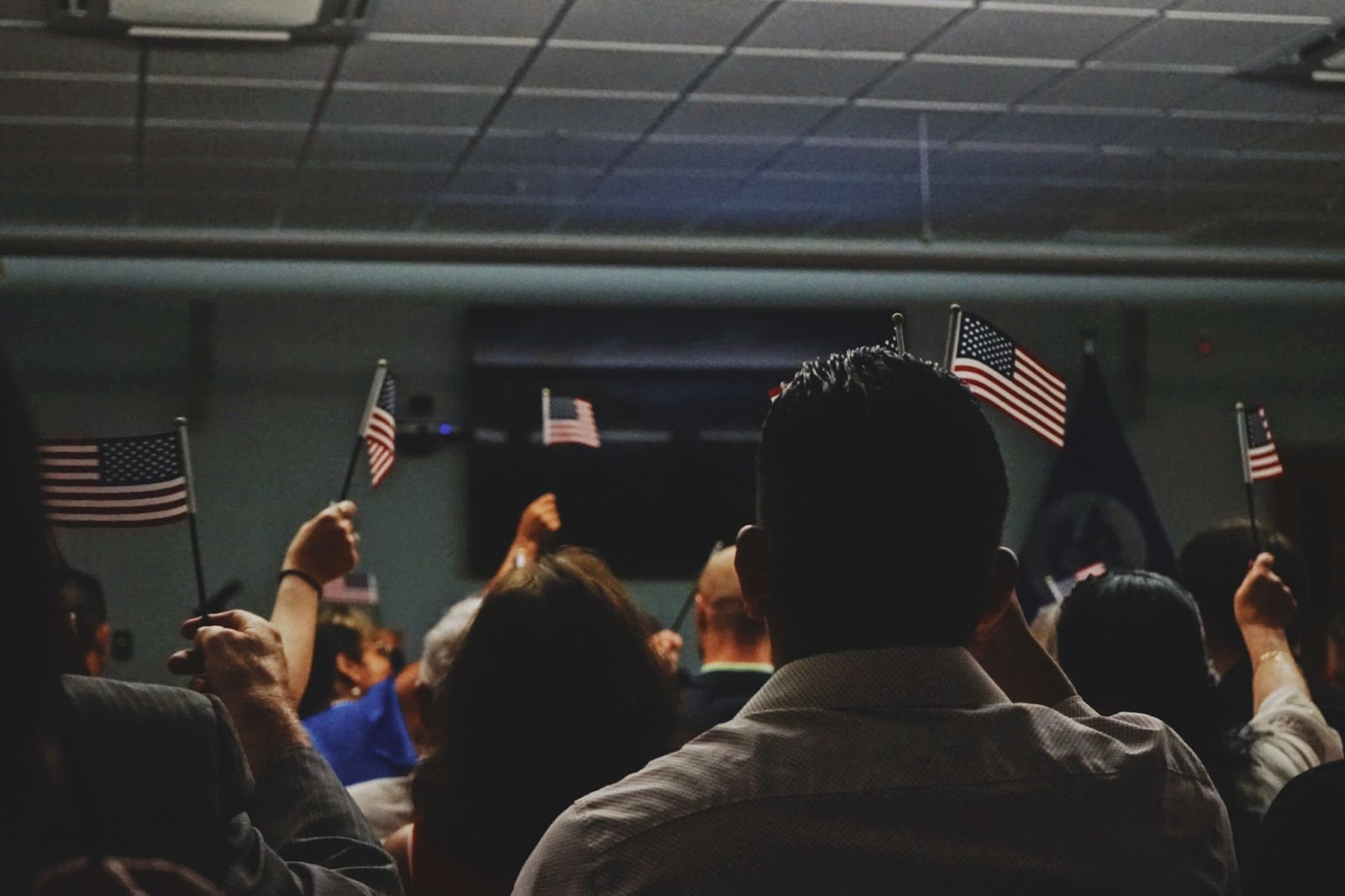 How much does naturalization cost?
Naturalization and all immigration services cost money. The application is $640, the fingerprints (if applicable) are $85, and there may be legal fees in addition to that.
Contact Cook Attorneys today to ask about the reasonable, competitive attorney fees. Spending some money up front on an attorney could save you thousands in re-filing, appealing, traveling between countries to comply with guidelines, etc.
How long does it take to become a naturalized citizen?
Generally speaking, from start to finish, the process takes 6-12 months. This is if there are no denials, appeals, or rescheduled interviews, etc. A lawyer can help you make sure it will take only that long, and not be dragged out unnecessarily because of paperwork that was not filed correctly.
How can I appeal a decision?
If you receive a denial letter, either after your application or after your interview, there will be appeal instructions on the letter. It is very important to read it closely, as most appeals must be completed within 30 days. 
Denial letters can be scary, but sometimes they are not as complicated as they look at first glance. Cook Attorneys can schedule you for an immigration consultation right away, so your appeal will be handled quickly and smoothly. Sometimes re-filing is more appropriate than appealing; a lawyer can help you determine which would be better.
What are the benefits of naturalization?
Once you become a naturalized citizen, you will enjoy the following privileges:
Voting rights

Ability to sponsor family members

Automatic citizenship for your children born later (even if they are not born in the United States)

No more possibility of deportation

Ability to run for public office

And—probably best of all—no more immigration forms or fees!
Additionally, you will be able to get a U.S. Passport, which allows you into almost 200 countries visa-free. It also allows you to go to any U.S. Embassy or Consulate when you are abroad, to seek asylum or passport assistance.
How can an attorney help?
An experienced attorney is crucial to a smooth naturalization process. Our attorneys and staff at Cook Attorneys have many years of experience helping people immigrate to the United States and become citizens. They can help every step of the way—from initial consultation, to application filing, to understanding letters you receive from the United States government. 
An attorney can save you time, money, and headache by getting everything right the first time. Call Cook Attorneys today to schedule your immigration consultation.